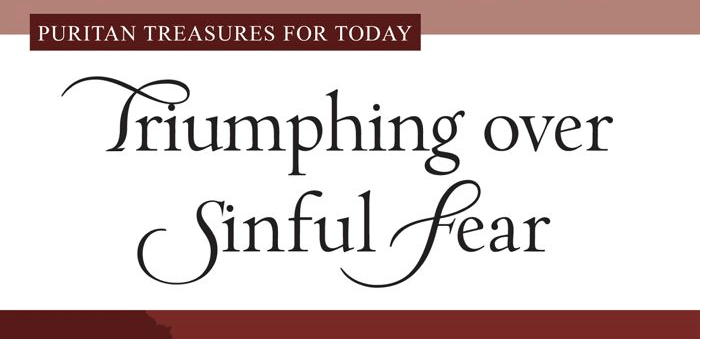 Triumphing Over Sinful Fear – Chapter 6 (Part 1)
We continue our blog series called "Reading with the Staff." If you haven't heard of this read-along series then check out this post. The staff is reading a book by John Flavel called Triumphing Over Sinful Fear. Check back every Tuesday (or Wednesday) for a summary of the previous week's chapter.
---
We will break up chapter 6 – Remedies for Sinful Fear – into several parts. This week we look at the first 3 remedies for sinful fear.
We have come to the most difficult part of this book: the cure for sinful and slavish fear. If God applies this cure, we will live at heart's ease in the midst of our troubles and enemies. Like the sun in the sky, we will keep a steady course in the darkest and gloomiest day. But before I come to the particular rules, it is necessary (in order to prevent mistakes) to lay down three important cautions. 

We must understand that only those in Christ are capable of improving the following rules to their advantage. Christ's greatest argument for extinguishing our fear of those who kill the body is the soul's security (Matthew 10:28).
We must not expect a perfect cure for our fear in this life. While there is much weakness in our faith, there will be much strength in our fear.
We must not think that the bare reading or remembering of the following rules will suffice. We must work them into our hearts through fixed meditation and live in the daily practice of them.
Rule 1: Study the Covenant of Grace
The first rule for relieving slavish fear is to consider seriously and study thoroughly the covenant of grace in which all believers stand. A clear understanding of the covenant's nature, extent, and stability, along with our interest in it, will go a long way to cure our sinful and slavish fear.

[God] places Himself under the most solemn ties and engagements to His people so that we might take strong comfort from so firm a ratification of the covenant (Hebrews 6:18). He will faithfully perform whatever His almighty power, infinite wisdom, and incomprehensible mercy can afford for our protection, support, deliverance, direction, pardon, or refreshment. God expects us to improve this by faith as the most sovereign antidote against all our fears in this world (Isaiah 43:1-2) (Isaiah 41:10).

Reader, if you are within the bonds of the covenant, you will surely find enough there to quiet your heart – whatever the cause of your fear.
What are you afraid of?

1) Are you afraid of what your enemies will do?
If God is your God, then you have Almighty God on your side. Your fears come in the name of man, but your help comes in the name of the Lord. Let them plot, threaten, and strike. God is a shield to those who fear Him (Romans 8:31).
2) Are you afraid of what God will do?
Do not fear it! Your God will not do anything against your good. There is not a danger or an enemy stirring against you that His eyes do not see (2 Chronicles 16:9). Are you afraid he will forsake you and cast you away? Your fear of God's forgetting or forsaking you arises from your ignorance of the covenant.
3) Are you afraid of what you will do?
Satan usually uses fear to deject, frighten, and discourage. You might say, "If fiery trials were to come, if my life and liberty were threatened, I fear I could not have enough strength to continue in the way of religion. I can hear, pray, and profess, but I doubt I can burn, bleed, or lie in a dungeon for Christ. If I can barely run with footmen in the land of peace, how can I possibly contend with horses in these swellings of Jordan (Jeremiah 12:5)? But these fears are groundless – either forged in your own heart or secretly introduced by Satan. God has abundantly secured you against such fears by that most sweet, supporting, and blessed promise: "I will put my fear in their hearts, that they shall not depart from me" (Jeremiah 32:40).
4) Are you afraid of what the church will do?
Are you afraid of what will become of that vessel, the church, in which you have so great an interest? It has survived bloody massacres, terrible persecutions, and cruel enemies. God has preserved and delivered it, just as he promised (Jeremiah 30:11).
Rule 2: Consider the Misery of Sinful Fear
The second rule is to consider the mischief and misery that sinful fear produces in this world and in the one to come.
Present Misery
The miseries and calamities that sinful fear brings upon people in this world are unspeakable. It has plunged the consciences of so many poor wretches into deep distresses. It has put them upon the rack and made them roar like the damned in hell.
Future Misery
Unless the Lord overcomes and extinguishes your sinful fear through the fear of His name, it will not only bring you into a kind of hell on earth, but into hell itself for all eternity (Revelation 21:8). Think upon this, you fearful and faint-hearted professors! You cannot bear the thought of lying in a nasty dungeon. So, how will you lie in the lake of fire and brimstone?

This is a smoldering; that is a roasting in the flames of God's insufferable wrath. This is a scalding drop sprinkled upon your conscience; that is the lake that burns forever with fire and brimstone. Oh, who would choose that suffering out of fear for present suffering which only touches the flesh and is but momentary? Think upon Christ's words: "For whosoever will save his life shall lose it" (Mark 8:35). Why, out of fear for a trifle, would you prolong a life that ends in the second death? It is nothing compared to what you will suffer from God forever.
Rule 3 Prepare for Future suffering
The third rule for overcoming the fear of suffering is to prepare for it beforehand. The fear of caution is a good cure for the fear of distraction. One fear cures the other, as one fire draws forth another. Evil is frightful because it often comes upon us by surprise. Troubles which find us secure leave us desperate and distracted. Presumption of continued tranquility is one of the greatest aggravations of misery.
The double advantage of preparing for suffering:
Acquaintance with Trouble
They acquaint our thoughts with evils. The more they are acquainted with them, the less they will be startled and frightened by them. We should not think "the fiery trial" is strange (1 Peter 4:12). The newness of evil, says a learned divine, is the cause of fear. In other words, fear arises when the mind has had no preceding encounter with its object whereby to judge its strength.
Preparation for Trouble
Such meditations prepare our thoughts to encounter trouble when it comes. Readiness will subdue and banish our fear. We are never as scared of those things for which our minds are prepared. 

Although our strength does not come from our own preparation for death, but from God's gracious assistance, yet He usually communicates His assistance through the conscientious and humble use of these means. Let us, therefore, be found waiting upon God for strength, patience, and resolution to suffer as becomes Christians in the serious use of those means whereby He is pleased to work in His people.