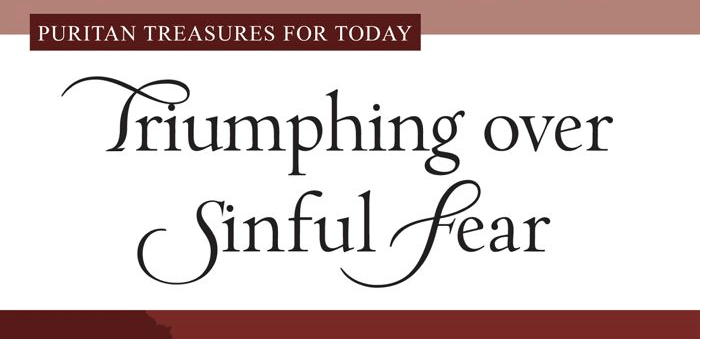 Triumphing Over Sinful Fear – Chapter 6 (Part 2)
We continue our blog series called "Reading with the Staff." If you haven't heard of this read-along series then check out this post. The staff is reading a book by John Flavel called Triumphing Over Sinful Fear. Check back every Tuesday (or Wednesday) for a summary of the previous week's chapter.
---
We continue in chapter 6 with remedies (or rules) 4-6 for fighting sinful fear. If you missed the first 3 rules, click here.
Rule 4: Commit Yourself to God
In order to subdue slavish fear, we must commit ourselves and all that is ours into God's hands (Proverbs 16:3). The greatest part of our trouble and burden in time of danger arises from the unsettledness and distraction of our own thoughts. The way to calm our thoughts is to commit everything to God.

For this rule to be serviceable to peace and quietness in an evil day, we must understand two things about the committing act of faith:
Its Nature
 Not everyone can commit themselves to God. Only His people can do it. Yet even they cannot commit themselves to His care and protection any way they choose; they must do it His way.

 Whoever commits himself to God must do so in well-doing. The apostle limits it to things agreeable to God's will (I Peter 4:19); otherwise we would make God a patron and protector of our sins. We cannot commit our sins to God's protection – only our duties. It is a vain exercise to shelter any cause under His wings, unless you can write upon it: "Arise, O God, plead thine own cause" (Psalm 74:22).
Whoever commits himself to God firmly believes that all events are in His hands – that He alone directs, orders, and overrules them as He pleases. Unbelief persuades people that their lives, and all that is dear to them, are in their enemies' hands. Therefore, it persuades them that the best way to protect themselves is to comply with their enemies will. Faith, on the other hand, tells us that we and all that is ours are in God's hand. No enemy can touch us unless He gives permission.
Whoever commits himself to God resigns his will to God's will. The submission to divine pleasure is part of the committing act of faith. Christian, what do you say? Is your will content to step aside so that God's will might take its place? Perhaps you refer difficult cases to God provided He governs them according to your desires. That is not submission or resignation, but a sinful limiting of, and prescribing to, God.
Whoever commits himself to God renounces all confidence in the flesh. If we commit ourselves to God, we must "cease…from man, whose breath is in his nostrils" (Isaiah 2:22). Acts of faith that give all the glory to God give real relief and comfort to us.
 Its Grounds
We must understand the grounds and encouragements we have to commit ourselves and all matters to God. However difficult and frightful the case might be, you can find encouragement in God – your relation to Him and your experience of Him.

 All that your heart requires to trust God and commit everything into His hands is found in him:

 God's power is almighty
God's wisdom is infinite
God's love and tenderness toward His people is transcendent.

When you consider yourselves, you find encouragement to commit everything to God.

You are God's children
You have already trusted God with a far greater matter than your estates, liberties, or lives. You have committed your soul to him.
You have always found him faithful in whatever you have entrusted to Him.
Rule 5: Mortify (Kill) Your Affections to the World
In order to get rid of your fear and distractions, you must mortify your affections to the world, and to the inordinate and immoderate love of every enjoyment in the world. The more you are mortified, the less you will be terrified. It is the strength of our affections that puts so much strength into our afflictions. The strength of our love for the world is directly proportionate to the strength of our fear. If ever you would rid yourselves of your uncomely fear, you must use God's means to mortify your affections.

You must mortify your affections to your estates and possessions in the world. Ships with much cargo are unsuitable for battle. The poorest age produced the richest Christians and noblest martyrs. If your unmortified heart is overheated with love for [possessions] (like Judas'), they will ensnare you.
You must mortify your affections to your liberty and take heed of placing too much esteem upon it. Liberty is a desirable thing to the birds of the air. You can feed them with the richest food, yet they would rather be cold and hungry in their woods than fat and warm in your cages. As sweet as liberty is, there might be more comfort and sweetness in losing it than keeping it. The prison doors might lock you in, but they cannot lock the Comforter out.
You must mortify your affections to the inordinate love of life. You must reason yourself into a lower estimation of life.
Rule 6: Imitate Faithful Saints
In order to subdue your slavish fear, you must strive to imitate the encouraging examples of those who have trod the path of suffering before you. You must look at the cloud of witnesses that encompasses you – a cloud of excellent persons to animate and encourage you (Hebrews 12:1).  Examples of excellent persons who have broken the ice and beaten the path before us are of excellent use to suppress our fear and rouse our courage in our own encounters.

We read of how they triumphed over all sorts of suffering and torment, and how they were "strengthened with all might, according to his glorious power, unto all patience and long-suffering with joyfulness" Colossians 1:11). They emerged from the battlefield with triumphant faith and patience. It was not the effect of an overheated zeal peculiar to that age, but of the same spirit of courage that is found among Christians of all ages.

Uses of those famous examples:

Use them against the prejudice of surprise.
Use them against the shame that accompanies suffering.
Use them against the torment of suffering. Poor, weak creatures have been carried honorably and comfortably through the most difficult suffering for Christ.
Use them against unbelief toward God's faithfulness.
Use them against the sensible weakness of your graces.

Do not doubt that God, who enabled them to finish their course with joy, will be as good to you. Christ has done as much for you as He did for them. He deserves as much from you as from them. He has prepared the same glory for you that He prepared for them. Oh, may such considerations provoke you to show as much courage and love for Christ as they did!