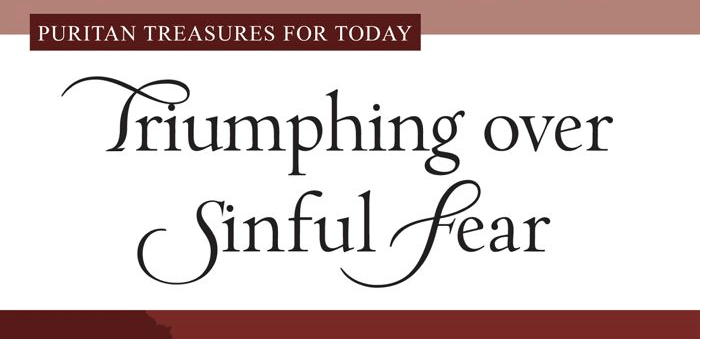 Triumphing Over Sinful Fear – Chapter 6 (Part 4)
We continue our blog series called "Reading with the Staff." If you haven't heard of this read-along series then check out this post. The staff is reading a book by John Flavel called Triumphing Over Sinful Fear. Check back every Tuesday (or Wednesday) for a summary of the previous week's chapter.
---
We continue in chapter 6 with remedy (or rule) 10 for fighting sinful fear.
Rule 10: Consider Christ's Providential Kingdom
In order to free yourself from sinful fear, you must consider Christ's providential kingdom over all creatures and affairs of this world. Poor fearful souls! Is there not a King, a supreme Lord, who rules over all? Has not Christ the reins of government in his hands (Matthew 28:18; John 17:2; Philippians 2:9-12). If we were to study Christ's dominion it would cure our trust in and fear of others. We would soon realize that they have no power to help us or hurt us, but what they receive from above.
Oh, Christian! If you will ever rise above your fear, you must settle these things upon your heart by faith.
The reins of government are in Christ's hands. Enemies, like wild horses, may prance up and down though they would trample everyone in their path; but the bridle of providence is in their mouths and upon their necks (2 Kings 19:28).
The care of the saints is in Christ's hands. He is the Head of the body.
You have lived to this day upon Christ's care. He has performed everything for you.
Christ has promised to take care of his people – no matter the circumstances (Eccl. 8:12; Amos 9:8-9; Romans 8:28).
Oh, if we thoroughly believed these things, fear could no more afflict our hearts than clouds could trouble the heavens!
Rule 11: Subject Your Carnal Reasoning to Faith
In order to obtain a composed and quiet heart in evil times, you must subject your carnal reasoning to faith. You must keep your thoughts under the government of faith. Whoever sets aside the rules of faith and measures things by the rule of his shallow reason is his own problem. The best people are prone to measure things by this rule – to judge all of God's designs and providences by reason.
This carnal reason is the thing that puts us into such confusion of mind.
It quarrels with the promises and shakes our confidence in them (Ex. 5:22-23).
It limits God's power and assigns boundaries to it (Ps. 78:20, 41).
It draws desperate conclusions from providential appearances (1 Samuel 27:1).
It sets us upon sinful courses in an attempt to save ourselves from danger (Isaiah 30:15-16).
It divides our thoughts and flows into our hearts (Psalm 94:16).
All of these mischiefs arise from our carnal reasoning. This ought not to be the case. Why?
Although there is nothing in the matter of faith or providence that is contrary to right reason, there are many things above the reach of reason (Isaiah 55:8).
Experience frequently confutes the confident dictates of reason. It is made a liar every day. Its fears are proved to be vain and groundless (Isaiah 51:13).
Rule 12: Exalt the Fear of God in Your Heart
In order to subdue your slavish fear, you must exalt the fear of God in your hearts and let it gain the ascendency over all other fears. Indeed, all the preceding rules are summed up in this one.
Observe:
Rule 1: Study the Covenant of Grace
The fear of God is a part of that covenant and an evidence of our interest in it (Jeremiah 32:40).
Rule 2: Consider the Misery of Sinful Fear
The fear of God keeps our ways pure (Psalm 19:9).
Rule 3: Prepare for Future Suffering
The fear of God enables us to make such provision (Hebrews 11:7).
Rule 4: Commit Yourself to God
The fear of God drives us to Him as our only sure refuge (Malachi 3:16).
Rule 5: Mortify Your Affections to the World
The fear of God is the instrument of mortification (Nehemiah 5:15).
Rule 6: Imitate Faithful Saints
The fear of God provokes in us a holy self-jealousy so that we do not fall short of those excellent patterns (Hebrews 12:15).
Rule 7 Confirm Your Interest in Christ
The fear of God makes us walk in the comforts of the Holy Spirit (Acts 9:31).
Rule 8 Keep Your Conscious Pure
The fear of God promotes integrity and uprightness (Proverbs 16:6).
Rule 9: Record Your Experiences of God's Faithfulness
The fear of God causes us to consider this subject for mutual encouragement (Malachi 3:16).
Rule 10: Consider Christ's Providential Kingdom
The fear of God is the character of those persons over whom His providence watches in the most difficult times (Ecclesiastes 8:12).
Rule 11: Subject Your Carnal Reasoning to Faith
The fear of God severs us from self-confidence and causes us to trust God with all doubtful issues and events.
We must sanctify the Lord of Hosts and make Him our fear.