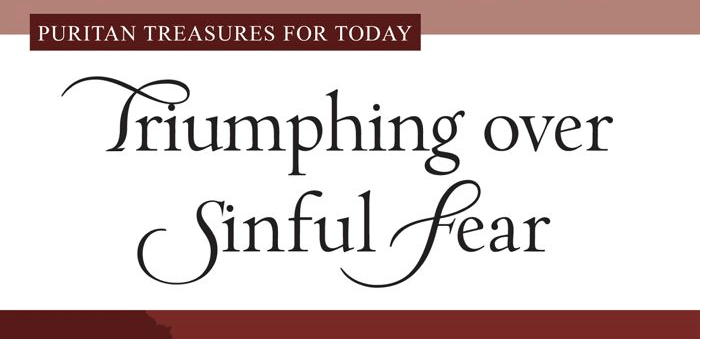 Triumphing Over Sinful Fear – Chapter 6 (Part 3)
We continue our blog series called "Reading with the Staff." If you haven't heard of this read-along series then check out this post. The staff is reading a book by John Flavel called Triumphing Over Sinful Fear. Check back every Tuesday (or Wednesday) for a summary of the previous week's chapter.
---
We continue in chapter 6 with remedy (or rule) 7 for fighting sinful fear.
Rule 7: Confirm Your Interest in Christ
In order to get above the power of your fear, make certain of your interest in Christ and your pardon in His blood. The more certain this is, the bolder you will be. An assured Christian is never a coward in suffering. It is impossible to be clear of fear until you are clear of doubts concerning your interest in Christ.
Once the believing Hebrews understood that they had an enduring "substance" in heaven, their hearts were unconcerned with the loss of earthly comforts (Hebrews 10:34). The same should be true of us. Why?
The assured Christian knows that his treasure and happiness are secure – beyond his enemies' reach.
The assured Christian knows that he loses nothing in death. A Christian makes two bargains. The first is at conversion, when he exchanges the world for Christ in point of love and estimation. The second is at death, when he parts with the world. Both are rich bargains.
The believer's death is unspeakable gain (Philippians 1:21); but if he wants to make the utmost gain, he dies in Christ and for Christ. Consider the following: 
The believer's living time is his laboring time, but his dying time is his harvest time. While we live, we are plowing and sowing in the duties of religion When we die, we reap the fruit and comfort of our labors and duties (Galatians 6:8-9). As reaping time is better than sowing or plowing time, so death is better than life for the believer.
The believer's living time is his fighting time, but his dying time is his conquering and triumphing time (I Corinthians 15:55-56). The conflict is sharp, but the triumph is sweet.
The believer's living time is his tiresome and weary time, but his dying time is his resting and sleeping time (Isaiah 57:2). Here we spend and faint, but there we rest in our beds.
The believer's living time is his waiting and longing time, but his dying time is his time of enjoying that for which he has wished and waited. Here we groan and sigh for Christ, but there we behold and enjoy Christ.
The assured Christian knows that to die in Christ and for Christ is the best improvement he can make of death.
Whoever is assured of such advantages in death will feel his fear of death shrink away. He will have life in patience and death in desire. He will not only submit quietly, but rejoice exceedingly to be used of God in such an honorable way. Assurance will call a bloody death a safe passage to Canaan through the Red Sea. The assured Christ looks upon his death as a wedding day (Revelation 19:7).
Rule 8: Keep Your Conscience Pure
In order to free yourself from distracting fear, you must be careful to maintain the purity of your conscience and the integrity of your ways in the whole course of your life in this world. Uprightness will give us boldness, and purity will give us peace (Isaiah 32:17). His confidence is great because his conscience is quiet. The peace of God guards his heart and mind.
Conscience is the shoulder that must bear the burden. Be careful, therefore, that guilt does not irritate it or sin put it out of joint. Instead of bearing your burdens, you will not be able to bear its pain and anguish. To prevent this, observe these rules. 
Make sure your heart is in awe of God, every day and in every place. This walking with God will keep you upright (Genesis 17:1).
Preface all that you do and design with prayer (Philippians 4:6). Do not involve yourself in anything for which you dare not pray God's blessing.
Be more afraid of grieving God and wounding conscience than displeasing your friends in the world.
Consider what counsel you would give others if they were in your situation. Your judgment is most clear when interest is least felt (2 Samuel 12:5-6).
Be willing to bear people's faithful reproofs as God's reproving voice.
Meditate daily upon your dying day.
 Rule 9: Record Your Experience of God's Faithfulness
 In order to subdue your slavish fear, you must carefully record your experiences of God's care for you and His faithfulness to you in your past danger and distress. You must apply them to your present fears. Recorded experiences are excellent remedies (Exodus 17:14).
 Experience gives us two special helps against fear.
 Experience abates the terror of suffering and makes it less formidable. Fear says, "They are great waters and will drown us." Experience says, "They are shallower than we think. We can safely cross." Experience assures us that when we are for Christ prisons and death are not what they appear to be from a distance.
Experience strengthens faith. Your experiences and those of others are like Aaron and Hur, who supported Moses' hands (Exodus 17:12). They support faith while your fear, like the Amalekites, falls before you. Your own and others' experiences, carefully recorded and seasonably applied, are food to your faith and a cure for many of your